Berri
Talk

1
323pages on
this wiki
Berri


Berri as she appeared in Conker's Bad Fur Day.

Gender:
Female
Eyes:
Blue (Bad Fur Day and Live and Reloaded)

Green (Twelve Tales: Conker 64)

Brown (Pocket Tales)

First Appearance:
Conker's Pocket Tales (1999)
Species:
Chipmunk
Color:
Brown/Gray
Character Type:
Non-Playable Character
Berri is Conker's girlfriend who first appeared in Conker's Pocket Tales.
Conker's Pocket TalesEdit
In her debut in Conker's Pocket Tales, she was a small light brown chipmunk with brunette hair who was about the same size as Conker. She wears a red dress, and sports a long hair style. In this game she plans a surprise birthday party for Conker but is kidnapped by the Evil Acorn. It's up to Conker to save her, and get his presents back.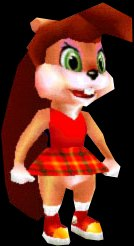 Conker's Bad Fur DayEdit
Berri went through a major design change in Conker's Bad Fur Day. In this game, she is taller and gray, with large breasts, sports a pink bikini, and blond hair. She is seen working out in her house in the first parts of the game until she is kidnapped by a rock monster. Conker later travels to a prehistoric land to find her dancing in a cage located in a club. He frees her from her prison, but she doesn't recognize him in his disguise. Later, Conker runs into Berri and Don Weaso at the Feral Reserve Bank. Don Weaso gives them orders to rob the bank, but it is just a trap set up by the Panther King in order to get close enough to Conker use him as a leg for his broken table. Berri, however, is shot to death by Don Weaso and her remains are sucked into space by the airlock along with the remains of the Panther King, possibly Don Weaso, and the still alive Professor von Kripplespac. Towards the end of the final battle, the game locks and Conker uses the opportunity to defeat Heinrich but forgets in the commotion to revive Berri and the final battle ends.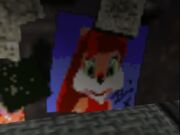 A poster of the beta version of Berri can be seen hanging above a bed in Rusty Bucket Bay in the Nintendo 64 version of the game Banjo-Kazooie.

In the Xbox Live Arcade version, Conker is shown instead.

Berri can be seen as a bartender in the Main Menu of Live & Reloaded.
According to Chris Seavor's tweet, Berri would have come back to life if Conker's Other Bad Day wasn't canceled.