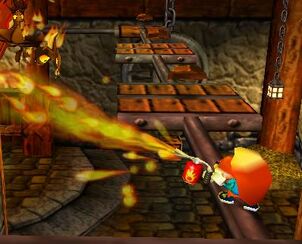 The Blowtorch is a context-sensitive item found in Conker's Bad Fur Day and its remake, Conker: Live & Reloaded. Conker uses it to kill the bats in Barn Boys and Bat's Tower.
Trivia
If Conker remains idle around the sign in Windy, he will say "I hate butterflies" and burn butterflies flying around in the area.
Ad blocker interference detected!
Wikia is a free-to-use site that makes money from advertising. We have a modified experience for viewers using ad blockers

Wikia is not accessible if you've made further modifications. Remove the custom ad blocker rule(s) and the page will load as expected.