---
Latest Announcements
September 21st, 2010 - Conker Wiki now has achievements. Edit frequently to earn more points!
June 25th, 2010 - Conker-Zone has been updated.
December 20th, 2009 - Conker Wiki now has a Twitter page. Why not follow us here?
December 19th, 2009 - The Conker Fanon Wiki has been created. The wiki will be undergoing construction for now, however feel free to add some content to it. Remember, it's a Fanon Wiki, so make stuff up!
December 18th, 2009 - ConkerZone has finally been finished and has been put up. Please go here and join ConkerZone.
September 15th, 2009 - The petition for a new Conker game has been spreading all over the internet. See here for more info.
September 12th, 2009 - This site needs active contributors that will stay with this site and edit frequently. For users who have been making great edits to this wiki, please become an active contributor (that goes to Thedog90, Snailio, Nubescout, Mateo22, etc.).
July 26th, 2009 - Conker Wiki now has 100 articles! Congratulations to all who have helped!
For more ConkerWiki news and updates, Please visit The Cock and Plucker, the wiki community portal.
---
Featured article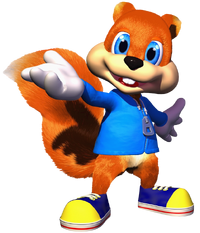 Conker the Squirrel is a red squirrel and the main character of the Conker series. He first appeared in the Nintendo 64 game Diddy Kong Racing as a playable character and later got his own game on the Game Boy known as Conker's Pocket Tales. His first 3D adventure was the Nintendo 64 game Conker's Bad Fur Day, followed by its Xbox remake Conker: Live and Reloaded, which was different from the first two because it had gotten an M rating from the ESRB for Violence, Blood and Gore, Sexual Themes, Alcohol Reference, and Language. more...


Featured Video
Featured Image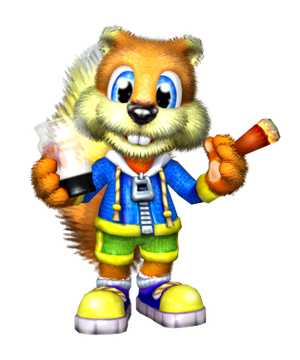 This current featured image depicts a highly detailed render of Conker as he appears in Live and Reloaded.
Featured Content   (all pages)
Quote of the Week
"Hey you over there, yeah you. Apparently there's something real neat inside this barn. I can't quite see it myself. Unless of course some guys jumpin' around stinkin' a' horse poo is real neat. Which, of course, it isn't."
--Conker

Helping out
To write a new article, just enter the title in the box below.
Not sure where to start?
Adding content
Talk and more...
Check out the Cock and Plucker, the wiki's community portal, to see what the community is working on, to give feedback or just to say "hi".
Affiliates

Project Spark Wiki is a fan-made wiki about Project Spark! Project Spark is a game-making tool developed by Team Dakota and published by Microsoft Studios. Link
Conker Wiki Is the Spanish version of conker wiki(Es la versión en español de conker wiki, link)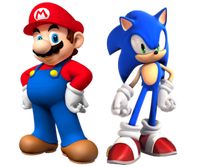 Platformer Games
Go to these sites for info or for help with your own wiki!
A Hat in Time • Azure Striker Gunvolt • Banjo-Kazooie • Bloodstained: Ritual of the Night • Broforce • Castlevania • Cave Story • Code: Hardcore • Conker • Contra • Crash Bandicoot • Croc • Cuphead • Donkey Kong • Drawn to Life • Epic Mickey • Ganbare Goemon • Geometry Dash • Jak and Daxter • Jazz Jackrabbit • Kirby • LittleBigPlanet • Mario • Mega Man • Metal Slug • Metroid • Oddworld • Ratchet & Clank • Rayman • Shantae (and WayForward games) • Shovel Knight • Sonic • Spyro the Dragon • Strider • Yooka-Laylee
Want your community included? See how!
See all of our Platformer gaming wikis!