Count Batula
Talk

0
323pages on
this wiki
Count Batula


Count Batula's sprite from Conker's Bad Fur Day.

Gender:
Male
Eyes:
Yellow (in BFD), Gray Blue (in L&R), Red (Bat Form)
First Appearance:
Conker's Bad Fur Day (2001)
Species:
Vampire/Squirrel
Color:
Grey
Character Type:
Non-Playable Character Boss
Count Batula is a three hundred year old vampire squirrel that appears in Conker's Bad Fur Day and its remake Conker: Live & Reloaded who is known to be Conker's great, great, great, great, great grandfather, making him one of Conker's ancestors.
Conker first meets Count Batula inside his mansion. At first, he greets Conker nicely, and offers him some food and wine. When Conker insults one of his ancestors, the Count gets furious, but then settles down.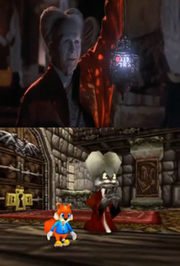 When the Villagers arrive, Count Batula reveals that he is Conker's great, great, great, great, great grandfather, and he was going to kill Conker and drink his blood, but now sees that he can be of use to him. He then turns Conker into a bat, and makes him fetch him some villagers and drop them into a grinder, where their blood is pumped up into Count Batula's mouth. He hangs upside down on a rope under a pipe that pumps blood from the grinder.
After drinking too much blood, he gets very overweight, which causes the ropes of which he hangs from to snap, causing him to fall to his death into his own grinder.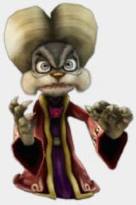 "Ah, velcome to my house. Please, enter of your own free will, and bring vith you some of the happiness that is so evident in your face... and so lacking in my own..."
"I never drink... vine."
"Pray come here."
"Enough! Who are you to criticize me or my ancestors, whose blood runs through these veins?! You are not of noble birth, and never will be!"
"Pray Follow."
"OH SSHHIIITT!!"- last words before falling in the grinder.
How to Beat
Edit
While indirect, this boss "battle" can be difficult. Villagers always appear in groups, so it's best to crap on all villagers in the area before snatching a victim. After dropping seven villagers into the grinder, Count Batula will fall into it.
Count Batula is based off of Dracula in Bram Stoker's Dracula.
The tombstone in the garden may indicate the character's name is actually Count Conkula, or that Count Conkula is an ancestor of Count Batula, and therefore Conker