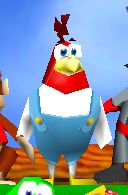 Drumstick the Rooster is a rooster and a playable character in Diddy Kong Racing and its remake Diddy Kong Racing DS, and he wear's overall's. He was the first one to challenge Wizpig to save Timber Island, however he ultimately failed, thus being transformed into a frog by Wizpig. Once you have obtained all four T.T. Trophies, he will appear in his frog form in the central area of Timber Island's riverbank, and can be unlocked by running over him.
In the DS version, you have to use your stylus to fling the frog over to a pond.
Ad blocker interference detected!
Wikia is a free-to-use site that makes money from advertising. We have a modified experience for viewers using ad blockers

Wikia is not accessible if you've made further modifications. Remove the custom ad blocker rule(s) and the page will load as expected.