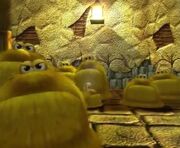 Haystacks are anthropomorphic bales of bouncing hay that appeared inside the Barn of the Barn Boys chapter of Conker's Bad Fur Day and Conker: Live & Reloaded. They are all yellow in color, and have eyes, a huge nose and a mouth. They vary in sizes ranging from very huge to one that is almost the size of Conker. When Conker first enters the barn, the Haystacks are the first thing he sees. He then asks the aforementioned smaller haystack that "apparently there's something real neat inside this barn". Conker then refers to the haystacks as "some guys jumping around stinking a' horsepoo", which the smallest Haystack remarks "this is pretty neat" (which is the only time that any normal Haystack speaks). After Conker insults Franky, Franky gets enraged and starts chasing Conker around the barn. Conker, for some unknown reason, utilizes the pitchfork's rage by making Franky run into the Haystacks and defeat them while trying to attack Conker. After all the Haystacks had been destroyed, Franky's "Friends" Reg and Ron insult him, and drive Franky to hang himself. (Which fails because Franky doesn't have a neck)
After the Haystacks have been destroyed by Franky, their eyeballs still remain, which follow Conker wherever he moves. The eyeballs can either be kicked by running into them or squashed by walking or jumping on them.
Haybot, a much larger Haystack, comes out of his hiding spot after his fellow Hay brethren had been destroyed, and also seeing that Franky, his "nemesis", had been "defeated". Haybot is the only one of the Haystacks that has arms, which he uses to move around the barn with. When he lands after jumping, he makes a metallic sound. This is due to the fact that he was indeed a robot. He seems much larger in his robot form. Haybot was also famous for his quote of "Right! Time to wander around... Aimlessly".
Trivia
Ad blocker interference detected!
Wikia is a free-to-use site that makes money from advertising. We have a modified experience for viewers using ad blockers

Wikia is not accessible if you've made further modifications. Remove the custom ad blocker rule(s) and the page will load as expected.