Hungover
Talk

0
323pages on
this wiki
Hungover is the first chapter in Conker's Bad Fur Day and Conker: Live and Reloaded. This is also considered the tutorial of the game, and is where Conker wakes up after being hungover. The exit from the Spooky chapter brings Conker back here from an alcove in the waterfall.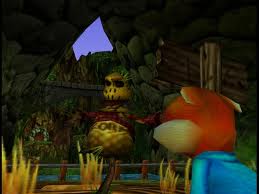 Characters Present
Edit
Scaredy Birdy
Edit
Conker meets Birdy, a scarecrow, who teaches him about the B Button concepts; after learning from him, Conker swims and jumps his way and enters a grotto.
Panhandled
Edit
Conker enters a small area and becomes locked in, after seeing a googly-eyed key, Conker obtains the frying pan weapon and whacks the key and unlocks the door, freeing himself.
Conker confronts the Gargoyle, who is blocking Conker's way and does not want to move from the bridge, Conker decides to whack him with the frying pan, however, this only causes the Gargoyle to laugh causing him to fall off the bridge into the water, thus dying, the fall causes a boulder to block the way, so Conker blows it up with dynamite, and gains access to the world of Windy.
In Conker: Live and Reloaded, When Conker hits Gargoyle with a frying pan it does not work. So he has to hit him with a Baseball Bat.

Next Chapter: Windy.
This chapter has his war helmet design for the Nintendo 64 can be see in area next to Birdy.