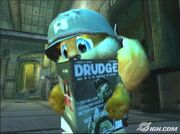 Master Chief
In The Demo Of Conker's Live And Reloaded, The Cover Of Drudge Magazine Conker Reads Is a Picture Of Master Chief, But Was Removed Before The Final Release of The Game
Who Is Master Chief?
Master Chief Is The Main Character From The Halo Series. And Taken As The Icon Of Xbox, Just Like Mario Is The Icon Of Nintendo.
Master Chief Is A Fictional Character And The Main Protagonist Of The Halo Series He Is Allied With Cortana Created By Bungie Studios And Voiced By Steve Downes.
Ad blocker interference detected!
Wikia is a free-to-use site that makes money from advertising. We have a modified experience for viewers using ad blockers

Wikia is not accessible if you've made further modifications. Remove the custom ad blocker rule(s) and the page will load as expected.