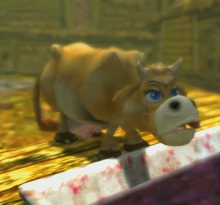 Olive is one of the cows in the Poo Cabin used to make poo. She does exactly the same thing as Marta and Mavis: she eats grass, she is hit by The Bull and go drink the cranberry juice, so she makes poo and is killed by the bull. 
Trivia
Her name is only said by Marta.
It's unknown if she is the second or third cow that appears.
Ad blocker interference detected!
Wikia is a free-to-use site that makes money from advertising. We have a modified experience for viewers using ad blockers

Wikia is not accessible if you've made further modifications. Remove the custom ad blocker rule(s) and the page will load as expected.