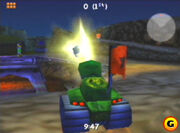 Note: This article refers to the Multi mode known as 'Tank' in Conker's Bad Fur Day. For the Tank that Conker uses in It's War, see Class Twenty-Two Tank. For the Tank vehicle used by the Demolishers in Xbox Live mode in Conker: Live and Reloaded, see Tankus.

Tank mode is a Multi mode in Conker's Bad Fur Day. It is based on the It's War chapter.
Objective
Players play as SHC Squirrels inside Class Twenty-Two Tanks and try to shoot and kill each other as well as other CPU Tanks. Within the battlefield, there is the Canister, which, if captured by a tank and taken to its base, releases a deadly gas that can instantly kill all tanks on the battlefield and not inside their bases. Players must retrieve the Canister to assure victory and to make sure that no one else gets it.
Locations
Bases/Bunkers
Canister Bridge
Hills
Tunnels
Hole in Center
Weapons/Upgrades
Scope
Cannon Extension
Shield
N2O Gas Cylinders
Ad blocker interference detected!
Wikia is a free-to-use site that makes money from advertising. We have a modified experience for viewers using ad blockers

Wikia is not accessible if you've made further modifications. Remove the custom ad blocker rule(s) and the page will load as expected.