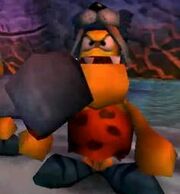 The Uga-Bugas seem to speak in their own language (which is similar to the English language). By reading and matching their text bubbles and what they are actually saying, their language can be translated.
Translations
(Note: The spelling of these words are based on pronunciation.)
Squarefur = Squirrel
Squerfudgie = Squirrel, or Conker
Zoom Zoom=Race
Boner = Bone
Fallah = Follow
Ad blocker interference detected!
Wikia is a free-to-use site that makes money from advertising. We have a modified experience for viewers using ad blockers

Wikia is not accessible if you've made further modifications. Remove the custom ad blocker rule(s) and the page will load as expected.